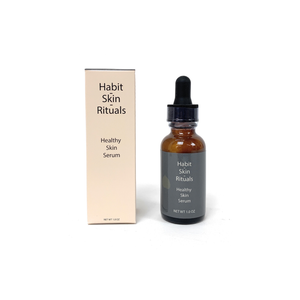 Details:

This light and quick absorbing serum helps to balance hydration and nourishes with hyaluronic acid, green, red and white tea extracts. Renewing brightness and radiance in the skin.
Benefits:
Organic Aloe Vera Leaf juice is a natural anti-inflammatory high in antioxidants A, C, E as well as other vitamin, minerals and amino acids.

Organic Green Tea extract is packed with antioxidants and polyphenols that soothe the skin and improve the overall brightness and texture of the skin. 

White willow bark extract has salicylic acid, which is a gentle exfoliator, anti-inflammatory and antibacterial.

Hyaluronic Acid helps attract and bind up to 1000x its weight in moisture. Instantly plumping and hydrating the skin.
MSM helps the appearance of skin texture and elasticity.
Rooibos tea extract is anti-inflammatory and rich in zinc. 
Ingredients: 
Organic Aloe Leaf Juice, Organic Alcohol, DMAE Bitartrate, Organic Jojoba Seed Oil, Emulsifying Wax, Glycerin, MSM, Organic Rooibos Leaf Extract, Hyaluronic Acid, Organic Green Tea Leaf Extract, Organic White Tea Leaf Extract, Organic White Willow Bark Extract, Vitamin E, Sunflower Seed Oil, Vitamin B3, Xanthan Gum