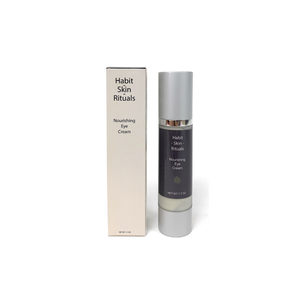 Details: 
This cream is made gentle enough for the eye area while keeping delicate skin looking youthful. 
Benefits: 
Organic aloe Vera is a natural anti-inflammatory high in antioxidants A, C, E as well as other vitamins, minerals and amino acids

Vitamin E nourishes and helps prevent free radical damage.
Hyaluronic Acid helps attract and bind up to 1000x its weight in moisture. Instantly plumping and hydrating the skin
Rooibos tea extract is anti-inflammatory and rich in zinc.
Amino Acids strengthen the skin and help the appearance of fine lines and wrinkles. 
Ingredients: 
Organic Aloe Leaf Juice, Organic Alcohol, Organic Olive Fruit Oil, Cetyl Alcohol, Cetearyl Glucoside, Cetearyl Alcohol, Organic Pumpkin Seed Oil, Marula Oil, Baobab Seed Oil, Cranberry Seed Oil, Vitamin E, Sunflower Seed Oil, Sodium PCA, Hyaluronic Acid, Organic Rooibos Leaf Extract, Organic Lavender Flower Extract, Organic Calendula Flower Extract, Pomegranate Seed Extract, Organic Blueberry Fruit Extract, Xanthan Gum