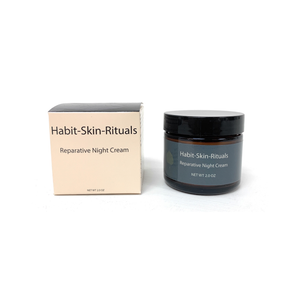 Details:
This reparative cream restores radiance and emollience to your skin. AHA's help your skin look its best and organic aloe and coconut oil add soothing hydration. 
Benefits:
Organic aloe Vera is a natural anti-inflammatory high in antioxidants A, C, E as well as other vitamin, minerals and amino acids

Vitamin E nourishes and helps prevent free radical damage.
Glycolic acid brightens the skin and helps promote cell turnover by gently exfoliating.
Tartaric Acid aids with clarity and radiance in the skin
Malic Acid helps brighten the skin and helps skin texture
Organic seaweed extract is packed with vitamins and minerals. It boosts moisture in the skin, firms and is also anti-inflammatory.
Organic Green Tea extract is packed with antioxidants and polyphenols that soothe the skin and improve the overall brightness and texture of the skin.
White willow bark extract has salicylic acid, which is a gentle exfoliator, anti-inflammatory and antibacterial.
Ingredients:
Organic Aloe Leaf Juice, Organic Coconut Oil, Apricot Kernel Oil, Glycerin, Emulsifying Wax, Stearic Acid, Vitamin E, Sunflower Seed Oil, Phenoxyethanol, Glycolic Acid, Tartaric Acid, Malic Acid, Organic Shea Butter, Mango Seed Butter, Organic Sugar Cane Extract, Organic Bilberry Fruit Extract, Organic Sugar Maple Extract, Organic Orange Peel Extract, Organic Lemon Peel Extract, Organic Cranberry Fruit Extract, Organic Seaweed Extract, Organic Green Tea Leaf Extract, Organic White Willow Bark Extract, Organic Alcohol, Organic Neem Seed Oil, Organic Rosemary Leaf Extract, Organic Sunflower Seed Oil, Xanthan Gum, Tetrasodium Glutamate Diacetate